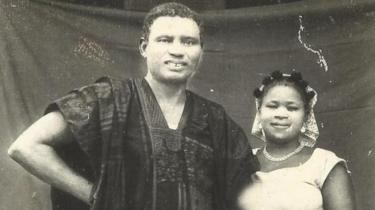 In our series of letters from African journalists, novelist and writer Adaobi Tricia Nwaubani writes about the Nigerian man who composed some 200 hymns, despite having leprosy.
Nigeria's most famous victim of leprosy was fatally injured in a motor accident 40 years ago, and a ceremony is being held to mark the anniversary of the music composer's death.
Born in 1905, Ikoli Harcourt Whyte was diagnosed with leprosy as a teenager, at a time when there was no effective cure for the dreaded disease which usually leads to deformity of the hands and feet.
People suffering from leprosy were often isolated or driven away from their communities. Whyte channelled his experience of suffering and stigmatisation into music, and went on to compose more than 200 inspirational hymns.
"He wrote with the stubs of his thumb and index finger," said 77-year-old Achinivu Kanu Achinivu, a professor of music who was a friend and protégé of Whyte.
"He wrote very slowly. It took him a whole day or more to write one page of music."

Who was Ikoli Harcourt Whyte?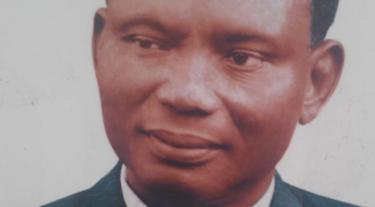 Born in Abonnema, Rivers State of Nigeria in 1905
Diagnosed with leprosy in 1919
Inmate at the Uzuakoli Leprosy Colony in south-eastern Nigeria from 1932, despite being cured in 1945
Composed over 200 hymns, mostly in the Igbo language
Set up a choir made up of people living with leprosy, who toured Nigeria
His choir sang for British dignitaries who visited colonial Nigeria
Included Ikoli (a traditional name) in his birth name, so as to not be mistaken for a foreigner
Died in a motor accident in 1977
Listen to his hymn Atula Egwu:

Whyte's talent for music was developed at the Uzuakoli Leprosy Centre in what is now Abia State in south-eastern Nigeria, where he spent the last 45 years of his life.
Before then, he had been receiving treatment at a hospital in Port Harcourt, capital city of his home state of Rivers in the Niger Delta, which had a thriving leprosy ward.
When residents of Port Harcourt, known as the Garden City, agitated for the removal of people with leprosy in their midst, Whyte led the other patients to resist attempts by local authorities to evacuate them forcefully, insisting that they be provided with an alternative location instead.
Cured, but still in the colony
His persistent activism partly led to the intervention of Methodist missionaries, who then established the Uzuakoli Leprosy Centre in 1932, with Whyte and his fellow patients as some of the first set of inmates.
"The work at Uzuakoli was hugely significant," said John Manton, Irish historian and anthropologist of medicine.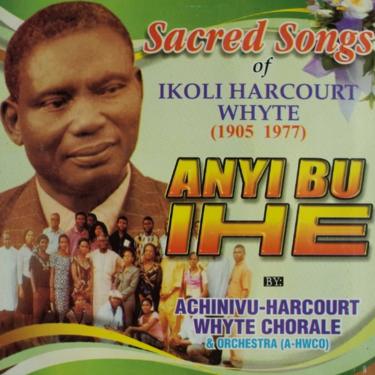 "It was the place where the dosage of dapsone for treating of leprosy was standardised in the early 1950s, and the first clinical trials of clofazimine took place there in the early 1960s – these are two of the drugs that are used as part of multi-drug therapy for leprosy today."
It was also in Uzuakoli that Whyte met British missionary and medical doctor, Thomas Frank Davey, a music lover and a pianist – an association that became the catalyst for his music career.
"Dr Davey taught him everything he knew about music, that he acquired by studying the Methodist hymn book," said Mr Achinivu.
During trips to surrounding and remote villages to treat leprosy patients, Dr Davey recorded the traditional music of the people.
He then encouraged Whyte to develop his own personal style by listening to and composing songs that sounded more like those tunes, rather than the ones in the Methodist hymn book.
Even after Whyte was eventually declared cured of leprosy in 1949, he chose to remain at the Uzuakoli centre, where he formed a choir made up of other patients.
His first wife, who also had leprosy, had abandoned him there a few years earlier after she was cured, leaving him with their two children.
Aura of hope
Soon, books of Whyte's hymns were being sold in different churches across the region, and choirs from around Nigeria were visiting the leprosy centre to listen to and learn from him.
Tales abound of the reach and impact of his music, most of which was written in his local Igbo language and focused on hope in spite of trials and tribulations.
"In the evenings, people from all walks of life came and he would teach them the music which God had shown him in dreams," said Enyeama Okoroafor. Now in his 70s, Mr Okoroafor is currently the oldest resident at the Uzuakoli centre, having been diagnosed with leprosy as a child and abandoned by his family.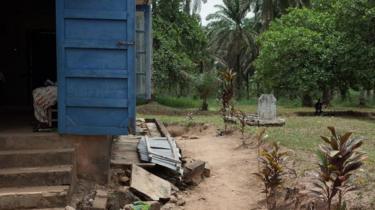 "At the time, because of his fame, we regarded him as the most senior person here and gave him that honour and respect. Because of what he was doing, he moved with many important men."
The decision to change the name of the chapel at the leprosy centre from Colony Chapel to Chapel of Hope was inspired by the aura that pervaded the hall whenever Whyte and the choir rendered his music.
"He didn't want instruments with his music so that they wouldn't overshadow the message," said 85-year-old Godwin Harcourt, Whyte's oldest child.
"From his songs, you could get solace, advice, things that would awaken your hope in God."
Godwin grew up in the leprosy colony with his father, although living in separate quarters, and became a school teacher.
"Every school I was sent to, I made sure I formed a choir there so I could teach his songs," he said.
Apart from church services, Whyte's choir sang for various dignitaries from Britain who visited colonial Nigeria.
Some say that the Queen of England also became aware of his music, and once requested his hymns to be played by the BBC on Christmas Day.
And, during the Nigerian civil war when leaders of the Igbo ethnic group attempted to secede and form a different country called Biafra, Whyte's songs were popular as a source of courage and hope.
Singing with lepers
"Each time we gathered, the chances were that we would end up with some recording of his," said Ejike Ago, 73, who fought in the Biafran army.
"It is not only the Biafran soldiers alone. The Christians, each time we gathered had his recordings playing."
Reporting- Pamela. O.
---