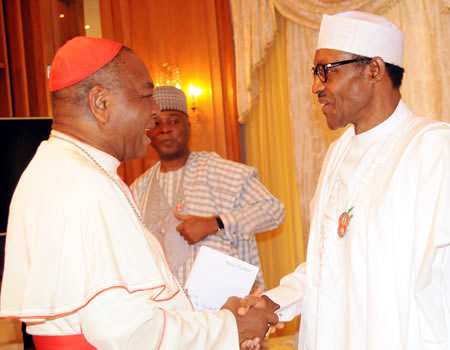 The Catholic Bishop of Abuja, Rev. John Onaiyekan has asked President Muhammudu Buhari to to ensure that all federal appointments have fair representation both from the Islam and the Christian faith, as a way of ensuring that no group in the country feels marginalised on religious basis.
Speaking with journalists on Wednesday, in Abuja, at the 15th Annual Conference of the Nigeria Anglican Roman Catholic Commission (NARCC), Onayekan, while reacting to the alarm raised by the Christian Association of Nigeria (CAN), that there are plans in some quarters to Islamised Nigeria, called on the President not to allow any leader under his government input policies that have a bias direction for the country.
He stated that: "Those ruling now should be aware that the way the country is now, every single appointment and promotion is been watched by the whole country, so they should make sure they don't give any group reasons to think and believe that the are been marginalised."
Onayekan said: "The president and all those with him swore that they will run the affairs of this nation without fear or favour."
He urged that the President has a duty of carrying all Nigerians along regardless of their religious affiliation.
He also explained that, "as a Christian, we live in a country where so far we have every right to practice our faith, not to practice it privately but publicly, that is the right we have under the Constitution."
"The question on Islamasation of the country to my own opinion depends on what you are talking about, the angle you are looking at, if every time a Muslim is appointed into a position you say Islamasation, therefore, everytime a Christian is appointed, we should be prepare to say Christianisation."
"In my own opinion, this is not even basically a religious issue, it is a matter of struggle for position and for power which is not bad because everybody has the right to fight for their right in this regard. Christians have the right to fight for their right in the Nigerian set-up," he stated.
The Bishop called for peace to reign in the country, saying "for me, I don't think there is going to be any good for all of us to declare a religious war, Christians against Muslims.
"I don't think it is a war that we can win and Islam win not win, the only person who will win will be trouble makers. But for the rest of us, all we want is to be able to live our lives in peace."
Rev. Duke Akamioko also at conference, urged Christians to live in harmony with one another in order to have one voice that will be directed towards the progress of the country.